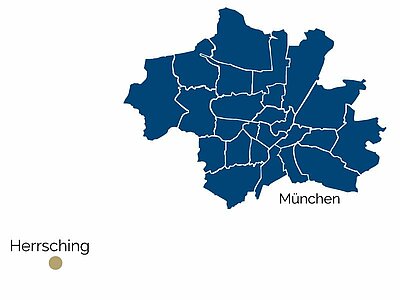 Houses for rent in Herrsching
---
Living in Herrsching
Herrsching is located approx. 40 km southwest of Munich (city center). This idyllic spot by Lake Ammersee was already populated in Celtic and Roman times.
| To the center (Marienplatz) | To the central station | To the airport |
| --- | --- | --- |
| 43,2 km | 41,2 km | 73,4 km |
---
Rental offers in Herrsching am Ammersee
---
Offers for sale in Herrsching am Ammersee
Most of the inhabitants lived on fishing and farming. After railway construction led to a spike in population, trade and handicraft started to grow, as well. Today, Herrsching, with its approximately 8,500 inhabitants, is a popular destination for day trips and vacation. Though not as well-known, Ammersee offers numerous beaches that are often more easily accessible than those of the better-known Lake Starnberg. This is why it attracts many visitors from the Munich area, especially in the summer. Another attraction is the picturesque Andechs Monastery, which can be reached from Herrsching via numerous hiking trails, and which rewards visitors with a wonderful view and a cozy beer garden. The S-Bahn line S8, which usually runs every 20 minutes, connects Herrsching to Munich's city center and the other outskirts.
The quiet location in the countryside and on the picturesque Ammersee lake, combined with the good connections to the centre of Munich, make Herrsching one of the most attractive residential areas in the Munich area. The development consists mainly of detached and terraced houses. Towards the town center there are also some multi-story residential buildings. Thus the town offers a variety of opportunities for temporary living. If you didn't find the right offer of furnished apartments and houses here, it is worthwhile to have a look at other picturesque communities such as Inning am Ammersee and Seefeld.
Unfurnished apartments can be found on Immoscout24 (unfortunately only in German language). The Immoscout24 app, is also available in English.
---
Photo galleries
12
Ammersee
2
Herrsching
14
Wörthsee
Shopping
Shops for convenience goods and many smaller stores, e.g. arts and crafts
Gastronomy
Many cafés, restaurants, bars, and bistros
Leisure
Lakeside promenade, swimming areas, library, landmarks (e.g. archaeological park, spa gardens castle, baroque church St. Martin)