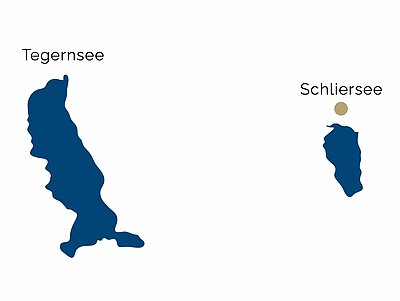 Apartments for rent at the Schliersee
---
Living in Schliersee
The village of Schliersee is located on the northeastern shore of the same-named lake and is a state-approved high-altitude health resort with a population of just under 7,000. From the village of Schliersee there is an unobstructed view onto the mountains Aiplspitz, Jägerkamp, Brecherspitz and Bodenschneid, which belong to the Mangfall Mountains. Schliersee is located 777 meters above sea level and belongs to the district of Miesbach. The higher-lying district of Spitzingsee is known for its winter sports and mountain hiking center and lies at an altitude of 1,090 meters.
| Munich Airport | Munich City Center |
| --- | --- |
| 91,0 km | 54,8 km |
---
Rental offers in Schliersee
Around Schliersee there are the most diverse leisure activities for the whole family: from cycling, hiking, winter or water sports to a mountain cart run at Spitzingsee or with the summer toboggan ride at Schliers-alp-cabin. Attractive destinations for excursions are also the Vitalwelt, the SLYRS whisky distillery or the Markus Wasmeier open-air museum. But culture lovers also get their money's worth: the Schlierseer Bauerntheater is considered the most famous farmer's theater in Germany and was founded as early as 1892 by the Munich court actor Konrad Dreher. Through traditional theater play and folk evenings as well as numerous other cultural events, Schliersee takes pride in the vital cultivation of its heritage.
From Schliersee there are only 53 km to Munich and about 18 km to the highway A8. The Schliersee train station is located on the railroad route from Munich to Bayrischzell and is currently served by trains of the Bavarian Regional Railroad every hour. Lake Tegernsee is only 12 km away.
Didn't find the right offer? You can also find beautiful furnished apartments in the communities of Miesbach, Kreuth and Bad Tölz.
Unfurnished apartments can be found on Immoscout24 (unfortunately only in German language). The Immoscout24 app, is also available in English.
---
Photo galleries
3
Schliersee
3
Miesbach
10
Kreuth
Shopping
Canning and Preserving specialties "Genussschmelzerei", sports and clothing stores as well as supermarkets and bakeries
Gastronomy
Cozy mountain taverns and alpine lodges, bars, cafés and restaurants with predominantly regional cuisine
Leisure
Farmers' theater, Markus Wasmeier open-air museum, SLYRS whisky distillery, Schliersbergalm summer toboggan slope, Spitzingsee winter sports and mountain hiking center.