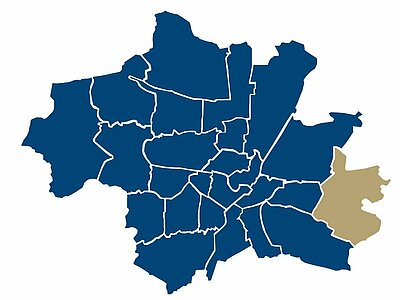 Living in Messestadt Riem
---
Apartments for rent and for sale
The small village of Messestadt Riem has become a more attractive residential area since the airport moved to Erdinger Moos. Munich's large new trade fair, Messestadt Riem, and the landscape park Riem with Riemer lake, the venue of the 2005 Bundesgartenschau, were built on the former airport grounds.
| To the center (Marienplatz) | To the central station | To the airport |
| --- | --- | --- |
| 9,5 km | 11,5 km | 33,8 km |
---
Rental offers in Munich-Messestadt Riem
---
Offers for sale in Munich-Messestadt Riem
This new neighborhood is characterized by its setting near the landscape park with its lake, in a largely car-free environment. This makes it one of Munich's most nature-orientated quarters and an example of ecological city planning, energy-saving construction and rain usage, as well as roof greening. The numerous traffic-calmed zones for children also make this area an ideal choice for families. Additionally, the family center founded in 1978 offers a wide range of counseling- and support services for families from Germany and abroad. The U-Bahn station U2 Messestadt Ost ensures an easy connection to the city center. The shopping mall Riem Arcaden is also an attraction for surrounding neighborhoods and communities in the east of Munich.
Messestadt Riem is a very popular district. If you haven't found what you're looking for here, it's worth taking a look at the surrounding districts of Riem, Trudering and the municipality of Dornach.
Unfurnished rental apartments can be found on Immoscout24 (unfortunately only in German language). The Immoscout24 app, is also available in English.
---
Photo galleries
16
Messestadt Riem
12
Riemer See
14
Berg am Laim
Shopping
The mall "Riem Arcaden" offers a wide variety of shopping facilities. Further information: www.riem-arcaden.de
Gastronomy
Several restaurants and cafés, mainly inside the shopping mall "Riem Arcaden"
Leisure
The country park Riem, located on the former grounds of the federal horticulture show with the Riemer lake (swimming lake), offers excellent leisure facilities. Sports grounds, cultural center Riem