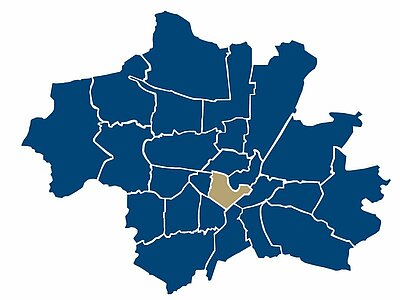 Living in the Glockenbachviertel
---
Apartments for rent and for sale
The Glockenbachviertel is located in the heart of Munich. The quarter takes its name from the Glockenbach, one of the many streams that for a long time shaped the image of this quarter, and today flow mainly underground. An exception is the Westermühlbach, which gives the Glockenbachviertel much of its idyllic charm and, together with the picturesque Old South Cemetery, creates a scenery that can make you forget big city life for a few moments.
| To the center (Marienplatz) | To the central station | To the airport |
| --- | --- | --- |
| 1,7 km | 2,1 km | 39,1 km |
---
Rental offers in Munich-Glockenbachviertel
---
Offers for sale in Munich-Glockenbachviertel
In recent years, the quarter has become a popular residential and trendy area, especially among young people. The dense pub scene of the Glockenbachviertel is also complemented by many smaller bars and pubs and, just like the Gärtnerplatzviertel, is considered a diverse and colorful quarter with a variety of cultural offerings. Apart from that, it probably offers the highest density of street festivals among Munich's quarters, which reach their climax every year with Christopher Street Day, when up to 15,000 visitors celebrate in Hans-Sachs-Straße.
The Glockenbachviertel is an ideal residential area in the immediate vicinity of the Isarauen. One phenomenon is the many traffic-calmed streets in the Glockenbachviertel, which is why the quarter offers a variety of quiet retreats, especially for young families, despite its immediate central location. Therefore, apartments are very popular in this quarter. If you haven't found the right offer here, it's also worth taking a look at the districts Gärtnerplatzviertel, Isarvorstadt and the Schlachthofviertel.
Unfurnished rental apartments can be found on Immoscout24 (unfortunately only in German language). The Immoscout24 app, is also available in English.
---
Photo galleries
7
Glockenbachviertel - Isarvorstadt
8
Gärtnerplatzviertel - Isarvorstadt
14
Schlachthofviertel - Isarvorstadt
Shopping
Many small and unusual shops
Gastronomy
Many welcoming cafés, bars, and restaurants
Leisure
Theaters, banks of the river Isar