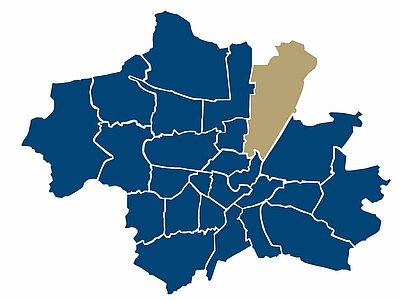 Living in Johanneskirchen
---
Apartments for rent and for sale
Johanneskirchen is located on the outermost northeastern edge of Bogenhausen, separating the city from the expansive Johanneskirchner Moos, a large open space that is mostly used for agricultural purposes.
| To the center (Marienplatz) | To the central station | To the airport |
| --- | --- | --- |
| 7,9 km | 9,7 km | 31,1 km |
---
Rental offers in Munich-Johanneskirchen
---
Offers for sale in Munich-Johanneskirchen
The historic town center is marked by the church of St. Johann Baptist, from which Johanneskirchen got its name. It is particularly architecturally interesting, as it is a so-called fortress church, meaning that it is surrounded by a defense wall and has served as a place of retreat. Beside the old town center, there are two new residential areas: large apartment blocks, partly with green spaces, have been built in both the east and the west since the 1970s. Johanneskirchen is connected to public transport by the S-Bahn station of the S8. Since the S-Bahn run every 20 minutes, the city center, as well as the outskirts and the airport can be reached quickly and easily all day long.
Johanneskirchen has a very diverse townscape: there are idyllic, rural structures but also buildings with up to 15 floors. The range of apartments is accordingly varied. If you have not found the right property here, then it is also worth taking a look at the neighboring districts Arabellapark, Denning and Unterföhring.
Unfurnished rental apartments can be found on Immoscout24 (unfortunately only in German language). The Immoscout24 app, is also available in English.
---
Photo galleries
10
Johanneskirchen
12
Feringa See
10
Unterföhring
Shopping
Shops for convenience goods and several smaller, partly exclusive, shops
Gastronomy
Several restaurants and cafés
Leisure
Tennis at Fidelio Park, rural surroundings