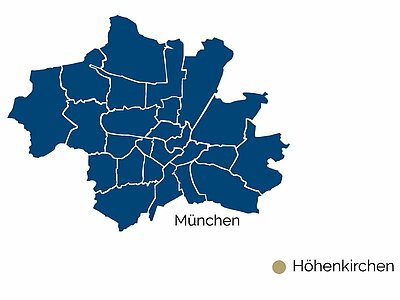 Long term rentals in Höhenkirchen
---
Living in Höhenkirchen
Höhenkirchen is located about 19 km southeast of Munich (center) and borders directly on the community of Aying, which is known for its brewery.
| To the center (Marienplatz) | To the central station | To the airport |
| --- | --- | --- |
| 21,2 km | 23,2 km | 49,7 km |
---
Rental offers in Höhenkirchen
The settlement, often referred to as Höhenkirchen-Siegertsbrunn, in the Munich gravel plain looks back on a long history. Originally there were wells from which drinking water was obtained. In the 17th and 18th centuries, the small settlement became increasingly important as a stopover for travellers passing through and has grown steadily since then. Despite the quiet location, there is an excellent connection to the city centre of Munich and the rest of the region: two stops of the S7 train line in Höhenkirchen provide the connection to the public transport system.
Here you will find furnished apartments and apartment buildings in a very quiet and idyllic location. In 2010 the last parts of the community were integrated, so that Höhenkirchen now has about 11,000 inhabitants. In addition, in 2013, Höhenkirchen opened its own grammar school, making the community an attractive alternative with a high quality of life to downtown Munich, even for young families. Similar attractive offers can also be found in the communities of Sauerlach and Hohenbrunn.
Unfurnished apartments can be found on Immoscout24 (unfortunately only in German language). The Immoscout24 app, is also available in English.
---
Photo galleries
2
Höhenkirchen
1
Sauerlach
Shopping
Supermarkets, numerous shops for your daily needs
Gastronomy
Many restaurants and cafés
Leisure
Library, youth center, regional events