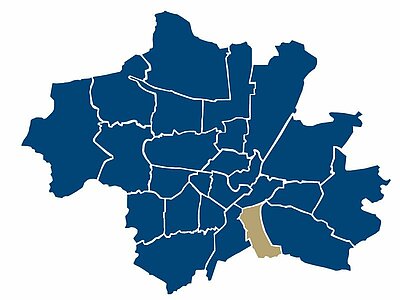 Living in Giesing
---
Apartments for rent and for sale
In this traditional working class area you will find mostly large apartment buildings, partly built by cooperatives.
Generally speaking however, Obergiesing has virtually every type of building, from detached houses to multi-story apartment buildings. In recent years, the renovation and privatization of apartments has made Giesing a more attractive area. Much of Altgiesing's traditional structure has been preserved in the area around Holy Cross Church, which is still the central landmark of the district. Not far from there, on Tegernseer Landstraße, you can find Parkviertel Giesing, a new quarter with more than 900 apartments, offices, shops, childcare facilities, and a park that is particularly attractive to young families. In general, the neighborhood is a perfect place to live.
Nearby in the south, you can reach Perlacher Forst, a large forest with extensive biking- and walking trails, perfect for relaxing. While Giesing itself does not offer as many green spaces as many other Munich quarters, its proximity to the recreation area "Flaucher" and the banks of the river Isar more than make up for this fact. An additional attraction for sports enthusiasts are the training grounds of FC Bayern Munich and TSV 1860, both of which are located in Giesing.
If you did not find the right offer for you here, then it is worth taking a look at the neighboring districts of Obergiesing, Perlach and Ramersdorf.
| To the center (Marienplatz) | To the central station | To the airport |
| --- | --- | --- |
| 4,3 km | 4,8 km | 41,1 km |
---
Rental offers in Munich-Giesing
---
Offers for sale in Munich-Giesing
Unfurnished rental apartments can be found on Immoscout24 (unfortunately only in German language). The Immoscout24 app, is also available in English.
---
Photo galleries
20
Giesing
11
Untergiesing
22
Obergiesing
Shopping
Many shops, especially along the Tegernseer Landstraße
Gastronomy
Several restaurants, cafés, and bars
Leisure
Indoor pool, sports grounds, amusement park