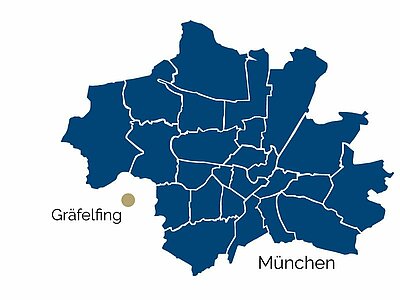 Furnished rentals in Gräfelfing
---
Living in Gräfelfing
Gräfelfing is located approx. 14 km west of Munich (city center). Located on the western border of Munich, near the lower reach of the river Würm, it offers quick connections to Munich's city center and Lake Starnberg, both via car and S-bahn line S6. The nearby five lakes country makes for an ideal day trip destination.
| To the center (Marienplatz) | To the central station | To the airport |
| --- | --- | --- |
| 14,0 km | 11,6 km | 49,1 km |
---
Rental offers in Gräfelfing
---
Offers for sale in Gräfelfing
Gräfelfing offers very good infrastructure, with several schools (primary and secondary schools, as well as a bus connection to the international school in Starnberg), childcare, and good medical care available on site. Gräfelfing, Martinsried, and Neuried form the center of Bavaria's most important biotech-cluster, which can be reached from Gräfelfing via bus lines 267 and 268. Several companies have settled here in the past years, taking advantage of its proximity to the city of Munich.
The low density garden suburb on the outskirts of Munich is considered a highly sought-after residential area for apartment rental due to its villa-like character. From a structural point of view, Gräfelfing has grown together with the neighboring community of Lochham. Furnished apartments here benefit from a quiet, green location, which is ideal for families. Similarly beautiful offers are also available in the villages Starnberg, Gauting and Planegg.
Unfurnished apartments can be found on Immoscout24 (unfortunately only in German language). The Immoscout24 app, is also available in English.
---
Photo galleries
4
Gräfelfing
8
Gauting
4
Planegg
Shopping
Several shopping opportunities in the immediate vicinity
Gastronomy
Wide range of restaurants
Leisure
Equestrian clubs, cycling tours, golf club, tennis club, TSV Gräfelfing e.V., chess club, art circle Gräfelfing e.V., literary society Gräfelfing, library, cinema "Filmeck Gräfelfing"