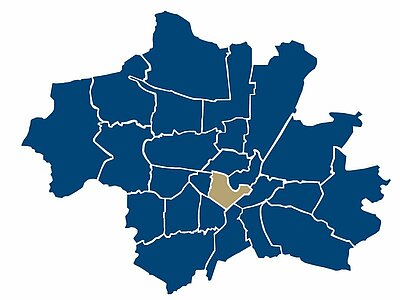 Living in the Gärtnerplatzviertel
---
Apartments for rent and for sale
In this popular residential area, you will find many beautiful period buildings and a large number of beautiful properties for apartment rental.The small, traffic-calmed streets with many unique shops and cafés, as well as the theater on Gärtnerplatz give this quarter an artistic flair. Just like Glockenbachviertel it is a vibrant and cosmopolitan district resulting in rich and diverse cultural offerings.
| To the center (Marienplatz) | To the central station | To the airport |
| --- | --- | --- |
| 0,9 km | 2,2 km | 38,5 km |
---
Rental offers in Munich-Gärtnerplatzviertel
---
Offers for sale in Munich-Gärtnerplatzviertel
Many bars, galleries, and smaller cultural institutions can be found on and around Gärtnerplatz. Its proximity to the city center and the river Isar makes this location particularly attractive. Reichenbachbrücke, which attracts many Munich residents, especially in the spring and summer, is ideal for relaxing and can be reached in a matter of minutes. The banks of the Isar in the south are possibly the most popular jogging and biking route and impress with their picturesque scenery. The connection to public transport is mainly provided by the U-Bahn station U1/U2 Fraunhoferstraße, as well as numerous tram lines. This way, the outer districts and Munich's surrounding area are also within easy reach.
The Gärtnerplatz quarter itself is located directly in the city center, the central Sendlinger Tor is only a few minutes' walk away. This is why the quarter is considered one of the most sought-after districts. The apartments here have an individual charm and benefit from an nearly perfect location. If you have not found a suitable offer, then it is worth taking a look at the neighboring districts Isarvorstadt, Glockenbachviertel and of course the city center "Zentrum".
Unfurnished rental apartments can be found on Immoscout24 (unfortunately only in German language). The Immoscout24 app, is also available in English.
---
Photo galleries
8
Gärtnerplatzviertel - Isarvorstadt
7
Glockenbachviertel - Isarvorstadt
9
Isarauen
Shopping
Many small and unusual shops
Gastronomy
Many welcoming cafés, bars, and restaurants
Leisure
Several theaters, banks of the river Isar, German Museum