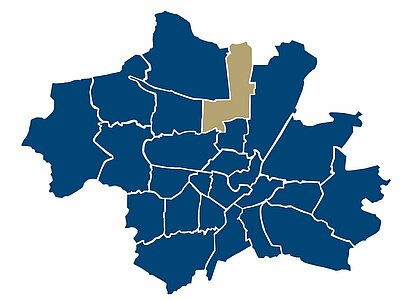 Living in Milbertshofen
---
Apartments for rent and for sale
Milbertshofen's most famous landmark is the Olympic Tower, whose almost 300m high viewing platform offers a wonderful view over the city and attracts over a million visitors per year.
| To the center (Marienplatz) | To the central station | To the airport |
| --- | --- | --- |
| 6,8 km | 6,0 km | 34,0 km |
---
Rental offers in Munich-Milbertshofen
---
Offers for sale in Munich-Milbertshofen
In the immediate vicinity, you can also find the Olympic Stadium, which was the site of the 1972 Summer Olympics. Although since the construction of the Allianz Arena no soccer matches have taken place, Olympiahalle still offers numerous other sports facilities and the stadium is still used for large events and concerts. The Olympic Park, which surrounds this entire area, offers a wide range of leisure facilties and a diverse landscape, making it perfect for walks. Furthermore, it is also the location of the Tollwood festival, which brings thousands of visitors to Milbertshofen each summer. Another prominent landmark is the four-cylinder BMW administrative building, as well as the bowl-shaped BMW Museum, and the BMW World, which is popular with both national and international visitors.
Milbertshofen is home to mainly older residential buildings, mostly apartment complexes, but also detached, semidetached, and terraced houses popular with young families. Thus, it offers a diverse environment. Did you not find a suitable offer here? Maybe you will find your dream apartment in the neighboring districts Freimann or Feldmoching.
Unfurnished rental apartments can be found on Immoscout24 (unfortunately only in German language). The Immoscout24 app, is also available in English.
---
Photo galleries
14
Milbertshofen
13
Am Hart
10
Olympiapark
Shopping
Many small shops, supermarkets
Gastronomy
Several restaurants and cafés
Leisure
Large sports club with Fitnessstudio and CityGolf Center