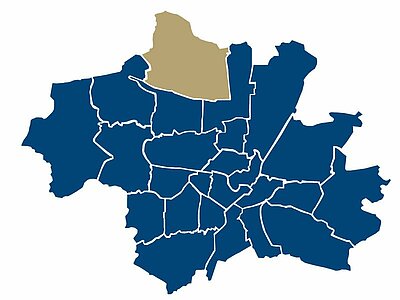 Living in the Fasanerie
---
Apartments for rent and for sale
The pheasantry after which the district of Fasanerie was named was founded by Duke Wilhelm V in the 16th century and continued to house birds into the 20th century.
| To the center (Marienplatz) | To the central station | To the airport |
| --- | --- | --- |
| 11,9 km | 10,0 km | 35,3 km |
---
Rental offers in Munich-Fasanerie
---
Offers for sale in Munich-Fasanerie
The lakes Fasaneriesee and Lerchenauersee are two beautiful recreation areas located within easy walking distance. The quarter borders Feldmoching in the north, Lerchenau in the east, and Allacher Lohe in the south. The city center and the outskirts can be reached quickly via the S-Bahn line S1 (station Fasanerie).
The settlement on the former site of the electoral pheasant garden was built between the two world wars as a horticultural colony and in the 1970s was converted into a residential area with mainly single-family and terraced houses. Today you can find many beautiful properties. If you did not find the right apartment for you here, then it is also worth taking a look at the neighboring districts of Feldmoching, Hasenbergl and Moosach.
Unfurnished rental apartments can be found on Immoscout24 (unfortunately only in German language). The Immoscout24 app, is also available in English.
---
Photo galleries
6
Fasanerie See
6
Lerchenauer See
6
Feldmochinger See
Gastronomy
Several restaurants and bars
Leisure
3 swimming lakes: Feldmochinger, Fasanierie-, and Lerchenauer lake