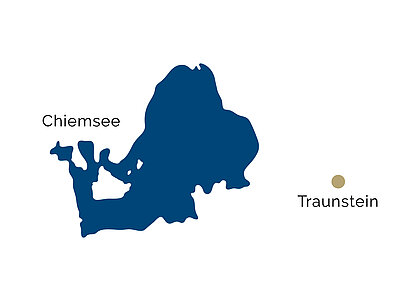 Apartments for rent in Traunstein
---
Living in Traunstein
Traunstein is a large district town in the administrative district of Upper Bavaria. The city is the capital of the Chiemgau region and the district capital of the county bearing the same name. Traunstein is located about ten kilometers east of Lake Chiemsee and 15 km north of the Chiemgau Alps. The river Traun flows through the city in its eastern parts.
| Munich Airport | Munich City Center |
| --- | --- |
| 105,0 km | 103,0 km |
---
Rental offers in Traunstein
As the "Land of Lakes and Mountains", the district of Traunstein is one of the most scenically appealing districts in Bavaria. Its diverse nature is also extraordinary. The Chiemgau Alps are home to mountain forests, torrents, alpine pastures and rocky grasslands. South of the lake are extensive high and low moor areas - e.g. the Kendlmühlfilze and the Bergen Moos - which are among the largest and best preserved moor complexes in Germany.
In addition, Traunstein has many beautiful sights to offer. The Salinen Chapel built in 1631 is Germany's largest chapel. It is a true gem in the Chiemgau region. The wooden benches and also the gallery were hand-carved by a Swiss artist and date from 1631. The Chapel itself is dedicated to the salt saint Rupertus.
Unfurnished apartments can be found on Immoscout24 (unfortunately only in German language). The Immoscout24 app, is also available in English.
---
Photo galleries
3
Traunstein
4
Unterwössen
4
Brannenburg
Shopping
many small individual and personal shops, traditional department stores, farmer's markets, weekly markets and fairs, stores for daily needs
Gastronomy
Inns, regional cuisine to buy and take away, sweet delicacies in the coffee house & bakery Bachl
Leisure
Ruhpolding amusement park, Meggenthal forest adventure trail, Stein an der Traun cave castle