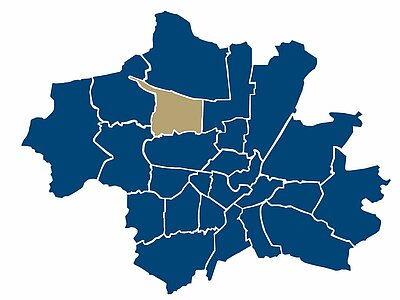 Living in Mooach
---
Apartments for rent and for sale
Along the main streets, one can find office buildings, industrial complexes, and lots of shops. Moosach offers various properties for apartment rental. Apart from a few multi-story residential buildings, the area is dominated by detached and semidetached houses with gardens.
| To the center (Marienplatz) | To the central station | To the airport |
| --- | --- | --- |
| 8,6 km | 6,6 km | 35,1 km |
---
Rental offers in Munich-Moosach
---
Offers for sale in Munich-Moosach
The district used to belong to the oldest towns in the area around Munich and is now mainly home to families. Despite the location outside the city center, you don't have to go without shopping in Moosach: The so called "Moosacher Stachus" on Dachauer- and Pelkovenstraße, as well as the well-known shopping mall Olympia-Einkaufszentrum (OEZ) offer plenty of opportunities for extensive shopping sprees. Recognizable from a distance and the city's tallest building after the Olympic Tower, the Uptown Munich is a central landmark of Moosach. But the quarter also offers many quieter spots. The forest Hartmannshofer Wald north of the Nymphenburg Palace Park, or the biotope Kapuzinerhölz next to Menzinger Straße are perfect for relaxing.
Moosach combines the relative quiet of an outlying district with an ideal connection to the local and regional infrastructure. Not least because of its location, the district is a popular place to live. Was there no suitable offer? Then it is worth taking a look at the neighboring districts of Nymphenburg-Gern and Obermenzing.
Unfurnished rental apartments can be found on Immoscout24 (unfortunately only in German language). The Immoscout24 app, is also available in English.
---
Photo galleries
12
Altmoosach
14
Bahnhofsbezirk - Moosach
12
Olympiadorf
Shopping
Many small shops and shopping mall "OEZ"
Gastronomy
Restaurants, cafés, and beer gardens