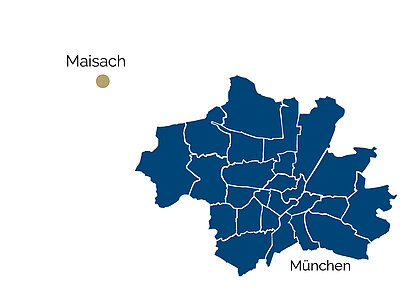 Living in Maisach
---
Furnished Rentals
The community of Maisach is located west of Munich in the district of Fürstenfeldbruck and is about 30 km west of Munich.
| To the center (Marienplatz) | To the central station | To the airport |
| --- | --- | --- |
| 43,0 km | 30,0 km | 47,0 km |
Thanks to its excellent infrastructure, Maisach offers the perfect location for living close to the city without hectic hustle and bustle.
A decisive step for the development of the community was brought about by the construction of the Munich-Augsburg railroad line. This station allowed the number of inhabitants to increase as more and more railroad employees and factory workers from Munich settled in Maisach.
For children, Maisach offers various options for school careers (elementary, middle and secondary schools) as well as daycare centers. The music school or the program of the adult education center in Maisach offer a variety of extracurricular education.
Adults will find a variety of events and activities in Maisach throughout the year. These include the Maisach Festival Week, the Christmas Magic Maisach and numerous sports and music events.
The community has everything that is part of modern life. And as is so common in Bavaria, typical inns and beer gardens invite you to enjoy genuine Bavarian delicacies.
Similar residential areas can be found in the surrounding towns of Germering, Olching and Fürstenfeldbruck.
Unfurnished apartments can be found on Immoscout24 (unfortunately only in German language). The Immoscout24 app, is also available in English
Shopping
Farmer's and weekly market, supermarkets, drugstores, stationery store
Gastronomy
Cafes, Inns, Pizzeria, Indian restaurant, Beer garden
Leisure
Music school, community library, outdoor swimming pool, sports halls, fitness studios