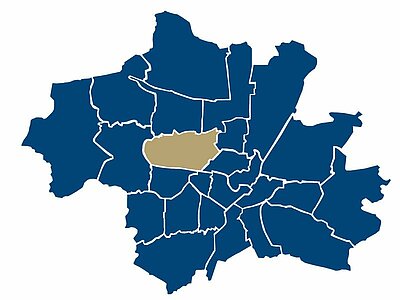 Living in Nymphenburg
---
Apartments for rent and for sale
The district gets its name from the famous Nymphenburg Palace, the summer residence of the House of Wittelsbach. Surrounding the palace with its gardens, stretches of which even surpass the dimensions of the Gardens of Versailles, one can find one of the city's most beautiful quarters: Villas and one- to two-story houses characterize the area.
| To the center (Marienplatz) | To the central station | To the airport |
| --- | --- | --- |
| 7,6 km | 5,1 km | 39,8 km |
---
Rental offers in Munich-Nymphenburg
---
Offers for sale in Munich-Nymphenburg
Outside of the Palace Park, in Gern and Neuhausen, green spaces and listed period buildings dominate the streetscape, making it a local recreation area for many Munich residents. Still, the district is not as quiet as it may seem at first glance, as there are also numerous smaller pubs enticing you to stay for a while. In the south you can find Hirschgarten, Munich's largest beer garden, which attracts lots of people, especially in the summer. The area around Rotkreuzplatz, the traffic hub of Nymphenburg, is also very vibrant, with a department store, numerous smaller shops and cafés, as well an exclusively English-speaking movie theater in the city.
Nymphenburg is undoubtedly home to some of the most beautiful furnished in Munich. The central yet green location is perfect for living. Similar offers can also be found in the neighboring districts of Obermenzing, Moosach and Laim.
Unfurnished rental apartments can be found on Immoscout24 (unfortunately only in German language). The Immoscout24 app, is also available in English.
---
Photo galleries
14
Nymphenburg
17
Nymphenburg-Gern
15
Schloss Nymphenburg
Shopping
Many small shops
Gastronomy
Quite a few cafés, beer gardens, and restaurants
Leisure
The Nymphenburg Palace with its park, the new botanic garden, and museums