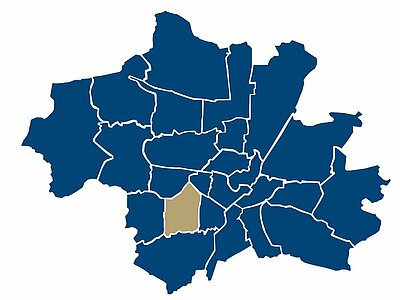 Living in Sendling-Westpark
---
Apartments for rent and for sale
Sendling-Westpark is a traditional working class neighborhood. The area is home to all shops for your daily needs and some of the small traditional restaurants that are typical for Sendling. You will find mostly multi-story residential buildings in Sendling, many of them from the turn of the century with some lovely apartments for rent.
| To the center (Marienplatz) | To the central station | To the airport |
| --- | --- | --- |
| 6,2 km | 5,3 km | 42,9 km |
---
Rental offers in Munich-Sendling-Westpark
---
Offers for sale in Munich-Sendling-Westpark
In the north, lies one of Munich's most popular recreation areas: Westpark, which offers a wide range of recreational activities, with its wide walking- and cycling paths, large meadows, beer gardens, and cafés. It also serves as the venue for several cultural events, like the very popular open-air cinema "Kino, Mond und Sterne", which is integrated into the picturesque surroundings. Finally, the sports facilities of Sendling-Westpark offers a variety of sports. The Audi-Dome, home of the basketball division of FC Bayern Munich, is also located near by. The quarter is framed by no fewer than four U-Bahn stations: Heimeranplatz (U4, U5), Harras (U6), Partnachplatz (U6), and Westpark (U6), thus ensuring fast and easy connections to the city center and the outskirts.
Unfurnished rental apartments can be found on Immoscout24 (unfortunately only in German language). The Immoscout24 app, is also available in English.
---
Photo galleries
10
Westpark
6
Südpark
23
Mitter- und Untersendling
Shopping
Many small shops
Gastronomy
Restaurants, cafés, and beer gardens
Leisure
Open air pool (Südbad), meadow of the river Isar with "Flaucher", sports grounds