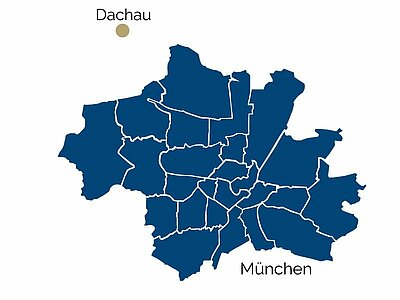 Furnished rentals in Dachau
---
Living in Dachau
Dachau is located approx. 32 km northwest of Munich (city center) and has a long and rich history.
| To the center (Marienplatz) | To the central station | To the airport |
| --- | --- | --- |
| 24,0 km | 22,0 km | 32,0 km |
The Celts settled in the area of this major district town as early as 500 BC. 805 AD "Dahaua" was given to the Bishop of Freising and after 1182 the House of Wittelsbach became the new owner. The Dachau Palace, which only partially withstood Napoleonic occupation, was built under their rule. In the 19th century, however, the village experienced a new heyday as a colony of painters (Carl Spitzweg, Max Liebermann, Fritz von Uhde and many others), as the surrounding landscape offered wonderful motifs. The powder factory, which was built in World War I, was to house even more terrible things from 1933 onwards: Germany's first concentration camp, in which more than 32,000 people died and which made the city of Dachau so tragically famous. Today a large memorial still commemorates this dark chapter.
By now, Dachau has over 36,000 inhabitants. Good infrastructure, the wide range of leisure facilities, and its small town charme, in combination with its proximity to Munich and the airport, make Dachau an attractive area. There is a mix of residential buildings, houses as well as apartment buildings with rental apartments, and larger industrial areas. If you have not found the right offer here, then it is worth taking a look at the municipality of Karlsfeld.
Unfurnished apartments can be found on Immoscout24 (unfortunately only in German language). The Immoscout24 app, is also available in English.
---
Photo galleries
7
Dachau
13
KZ in Dachau
9
Karlsfelder See
Shopping
Shops for convenience goods and many smaller stores
Gastronomy
Many cafés, restaurants, bars, and bistros
Leisure
Museum, galleries, movie theater, indoor pool, libraries, attractions (e.g. Concentration Camp Memorial Site, Dachau Palace)