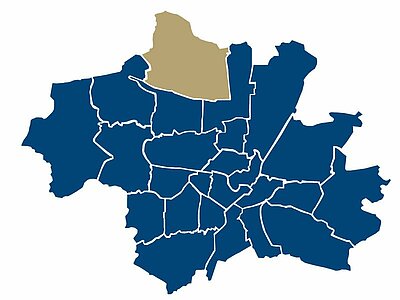 Living in Hasenbergl
---
Apartments for rent and for sale
The Hasenbergl owes its name to the Bavarian Kufursts, who used the clay hill for hunting rabbits until the 20th century.
| To the center (Marienplatz) | To the central station | To the airport |
| --- | --- | --- |
| 13,1 km | 12,6 km | 31,9 km |
---
Rental offers in Munich-Hasenbergl
---
Offers for sale in Munich-Hasenbergl
Initially, the district had to struggle with a lack of infrastructure and cultural facilities, but projects such as "Socially Integrative City" have greatly enhanced the district in recent years: for example, the cultural center 2411 was opened, which is home to both a district center and a local shopping center. Nearby are the Feldmochinger See, the Fasaneriesee and the Lerchenauer See, all of which invite you to take long walks and swimming in the summer. The U-Bahn stations Hasenbergl and Dülfestraße (both U2) connect the district with Munich city center and the other districts. Not far from there, at Feldmoching station, the S1 stops, which provides a connection to the surrounding area of Munich and Munich Airport.
The settlement on the Hasenbergl was largely built in the 1960s to alleviate the housing shortage of the post-war period. It consists mainly of block buildings with small apartments and a few terraced houses. Due to the upgrading of the district, Hasenbergl is also becoming increasingly popular with families, as evidenced by the numerous green areas and playgrounds. Similarly attractive apartments are also available in Feldmoching, Am Hart and Lerchenau.
Unfurnished apartments for rent can be found on Immoscout24 (unfortunately only in German language). The Immoscout24 app, is also available in English.
---
Photo galleries
4
Hasenbergl
6
Feldmochinger See
6
Lerchenauer See
Gastronomy
Several restaurants and bars