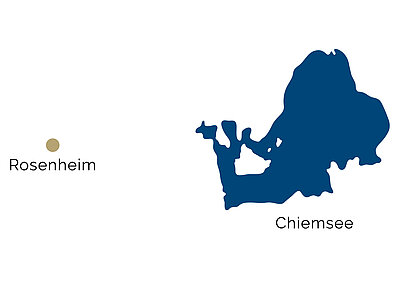 Apartments for rent in Rosenheim
---
Living in the city of Rosenheim
Rosenheim is located just under 70 km southeast of Munich in the Inn Valley. The city has over 64,000 inhabitants and embodies the typical Bavarian culture and landscape: full of life and yet cozy.
| Munich Airport | Munich City Center |
| --- | --- |
| 102,0 km | 67,0 km |
---
Rental offers in Rosenheim
---
Offers for sale in Rosenheim
The ideal transport connections in the direction of Brenner and Southern Europe, but also in the direction of Salzburg, Vienna and Eastern Europe make Rosenheim one of the most convenient locations in Europe.
The city is also an important transport hub between Munich, Salzburg and Innsbruck. Lake Chiemsee and Lake Simssee are only 25 km away. Due to this location, Rosenheim has a particularly high recreational value. Whether for skiing and sledding in winter or for surfing, biking, hiking and climbing in summer. The region is popular with residents and tourists alike.
The cultural diversity of numerous museums, theater stages, libraries and more are another reason why the city is such a source of joy for young and old alike. Located in the center of the city, the KU'KO City Hall is a vibrant and widely known event center that hosts around 400 events a year.
Rosenheim is particularly popular with families because of the many child and youth care options.
Other beautiful residential areas can be found in the towns of Miesbach and Schliersee.
Unfurnished apartments can be found on Immoscout24 (unfortunately only in German language). The Immoscout24 app, is also available in English.
---
Photo galleries
4
Brannenburg
3
Schliersee
4
Unterwössen
Shopping
Aicherpark retail park, fair trade stores, delicatessens, drugstores, supermarkets
Gastronomy
Breweries, pubs, cafes, bars, beer gardens, restaurants
Leisure
cinemas, theaters, museums, markets, sports clubs, swimming pools, playgrounds