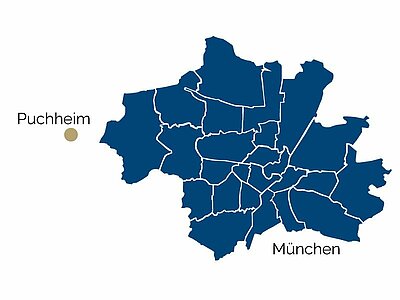 Furnished houses in Puchheim
---
Living in Puchheim
Puchheim is located approx. 21 km west of Munich (city center) and 8 km east of Fürstenfeldbruck. The town in the district of Fürstenfeldbruck has around 20,000 inhabitants.
| To the center (Marienplatz) | To the central station | To the airport |
| --- | --- | --- |
| 26,3 km | 20,2 km | 49,8 km |
---
Rental offers in Puchheim
The town´s history dates back to the Roman settlement in the year 15 BC. It was in the 19th century, when the town broadly developed and attracted residents from the surrounding region and the connection to the railway line Munich-Memmingen. The S-Bahn line S2 normally runs every 20 minutes at station "Bahnhof Puchheim". The bavarian Allgäu railway (Bayerische Allgäubahn) provides an uncomplicated connection to farther destinations of the region.
Today, Puchheim is home to a diverse range of buildings, which also offer some nice furnished apartments. While until a few years ago, the B2 road still ran through the town, the town center is now much quieter thanks to the new bypass. This provides Puchheim with a generally quiet residential area for long term rental. Similarly beautiful offers can be found in Fürstenfeldbruck, Gröbenzell and Germering.
Unfurnished apartments can be found on Immoscout24 (unfortunately only in German language). The Immoscout24 app, is also available in English.
---
Photo galleries
1
Puchheim
3
Fürstenfeldbruck
5
Germering
Shopping
A variety of supermarkets, as well as a wide range of shops and service providers
Gastronomy
Numerous restaurants off different cuisines and a few cafés
Leisure
Cultural center, library, sports facilities, indoor pool, town fair