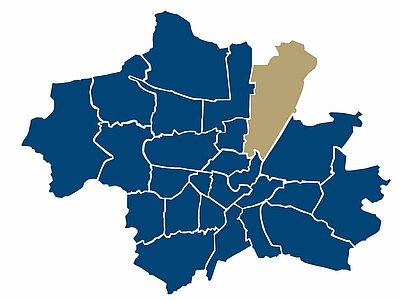 Rental apartments in Freimann
---
Living in Freimann
Freimann, the name-giving part of the district, was first mentioned in documents in 948 and 957 as ad Frienmannun. Today, the Metropoltheater and the youth center LOK Freimann provide cultural variety in the district.
| To the center (Marienplatz) | To the central station | To the airport |
| --- | --- | --- |
| 10,1 km | 10,6 km | 29,1 km |
---
Apartment Offers in Munich-Freimann
The town also houses one of Munich's central landmarks: the Allianz Arena. Distance and relaxation can be found in the nearby Fröttmaninger Heide, which has been declared a nature reserve since 2016. Not far from there you will also find Fröttmaninger Berg, where the art installation "Sunken Village" reminds us of the resettlement of the village, which had to make way for a waste disposal site, and from which you can overlook the whole of Munich. The U-Bahn station U6 (Freimann) connects the district with the public transport system, while the access to the A9 motorway guarantees an uncomplicated connection to long-distance traffic.
In the former villa suburb, a settlement for families was built in the 1930s, which was later extended by various rental and owner-occupied housing estates. In the 1960s, Neu-Freimann was added as a further residential area with commercial space and parks and gardens. In addition, numerous furnished apartments can be found here. Similarly beautiful objects for temporary living can also be found in Kieferngarten, Schwabing and Milbertshofen.
Unfurnished apartments can be found on Immoscout24 (unfortunately only in German language). The Immoscout24 app, is also available in English.
---
Photo galleries
9
Freimann
7
Kieferngarten - Freimann
15
Englischer Garten - Nordteil
Shopping
Shops for convenience goods
Gastronomy
Several restaurants and cafés
Leisure
Theater, sports grounds