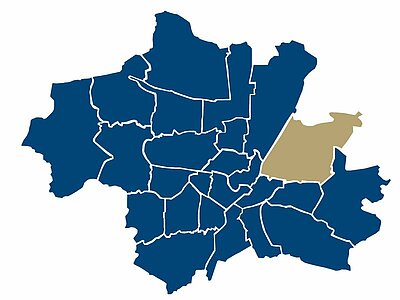 Living in Altbogenhausen
---
Apartments for rent and for sale
Altbogenhausen forms the historic center of the Bogenhausen district and extends outward from St. George's Church. The Friedensengel (Angel of Peace) and the magnificent Prinzregententheater (Prince Regent Theater) define the image of this district. In this distinguished quarter there are also many magnificent old buildings, such as the famous Villa Stuck and the building of the Federal Finance Court, most of which date from the Wilhelminian period. Many of these villas are now home to consular embassies of various countries in Munich.
| To the center (Marienplatz) | To the central station | To the airport |
| --- | --- | --- |
| 3,0 km | 4,0 km | 33,0 km |
---
Rental offers in Munich-Altbogenhausen
---
Offers for sale in Munich-Altbogenhausen
In Altbogenhausen there are many smaller parks, such as the Herzogpark or the landscaped Isar riverbeds, which are ideal for recreation. Inside the neighborhood, you will find partly picturesque winding streets, which give Altbogenhausen a special charm.
The neighborhood is very centrally located and is well connected to public transportation: The stops Prinzregentenplatz (U4) and Böhmerwaldplatz (U4) guarantee uncomplicated and quick connections to both the city center and the neighborhoods further out. In addition, numerous streetcar and bus-lines stop at various places in Altbogenhausen.
Altbogenhausen is a very popular residential area because of the excellent transit connections. You haven't found the right apartment here? You will also find interesting offers in the districts of Denning, Johanneskirchen and Oberföhring.
Unfurnished rental apartments can be found on Immoscout24 (unfortunately only in German language). The Immoscout24 app, is also available in English.
---
Photo galleries
12
Altbogenhausen
6
Parkstadt Bogenhausen
8
Herzogpark
Shopping
Many small and exclusive shops and galleries
Gastronomy
Many cafes, bars, and restaurants
Leisure
Several museums, theatres, and cinemas