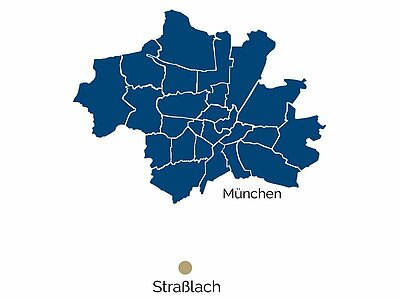 Furnished rentals in Straßlach
---
Living in Straßlach
Straßlach is located approx. 17 km south of Munich (city center) and has approx. 3000 residents. It is the smallest municipality in the Munich administrative district and is usually combined with Dingharting as Straßlach-Dingharting.
| To the center (Marienplatz) | To the central station | To the airport |
| --- | --- | --- |
| 19,6 km | 20,0 km | 65,1 km |
The small town can be dated back to a settlement in the year 100 B.C. Straßlach is near the southern river banks of the Isar, which is one of the most beautiful recreation areas in the region. It is also known for its good location for timber rafting on the Isar and its chute is one of the longest of its kind. Despite its distance to Munich, motorway B11 provides a quick access from Straßlach to Bavaria's capital.The Tölzerstraße/Südliche Münchener Straße is the fastest way to reach the southeast of Munich. The nearby S-Bahn station "Höllriegelskreuth" connects to Munich's public transport.
Straßlach offers some furnished apartments and houses with gardens in an idyllic, rural residential area. Renting outside of Munich is ideal for families who want more space and peace and quiet. Are you still looking for an apartment? There are also nice offers for temporary accommodation in the communities of Schäftlarn and Baierbrunn.
Unfurnished apartments can be found on Immoscout24 (unfortunately only in German language). The Immoscout24 app, is also available in English.
Shopping
Wine shops, few small shops
Gastronomy
A handful of restaurants and a bakery
Leisure
Golf club, miniature golf, sports club, tennis