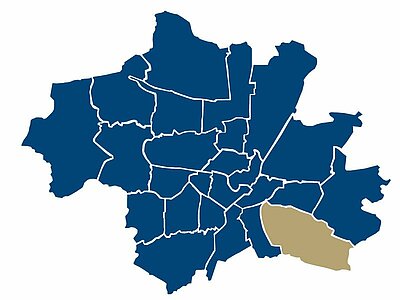 Living in Ramersdorf
---
Apartments for rent and for sale
At the beginning of the last century, a non-profit housing estate was built around the old village center. The picturesque pilgrimage church of St. Mary Ramersdorf still points to the old town center of Ramersdorf, which was incorporated into Munich in 1818.
| To the center (Marienplatz) | To the central station | To the airport |
| --- | --- | --- |
| 6,5 km | 9,3 km | 39,1 km |
---
Rental offers in Munich-Ramersdorf
---
Offers for sale in Munich-Ramersdorf
Alongside the many industrial complexes, further residential building projects have given this quarter a very varied architectural structure. Ostpark, Schwedenstein, and Perlachpark stand out as large local recreation areas. The U-Bahn stations Quiddestraße, Innsbrucker Ring, Michaelibad, and Neuperlach Zentrum connect the quarter to public transport and central Munich. Furthermore, the S-Bahn stations Giesing and Perlach provide quick and easy access to Munich's surrounding area. The middle ring road (Mittlerer Ring), which runs through Ramersdorf, allows for a good connection by car to the city center and long-distance transport.
Due to the large expansion of the quarter, which is combined with Perlach nowadays, it offers a wide and diverse range of differently designed living spaces and leisure facilities.This is why this district is becoming more and more popular. More apartments can be found in the neighboring districts Perlach, Neuperlach and Giesing.
Unfurnished rental apartments can be found on Immoscout24 (unfortunately only in German language). The Immoscout24 app, is also available in English.
---
Photo galleries
9
Ramersdorf
6
Ostpark
10
Neuperlach
Shopping
Several shops and wholesale markets
Gastronomy
Several restaurants, bars, and cafés
Leisure
Open air pool "Michaelibad", Ostpark, theater