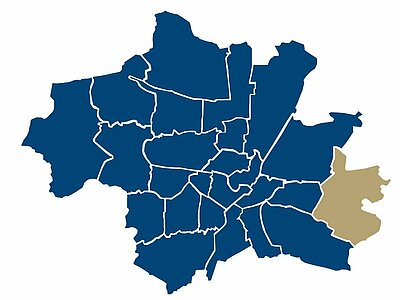 Living in Waldtrudering
---
Rental apartments and sales offers
Waldtrudering is located on the eastern outskirts of Munich and is one of Munich's most popular neighborhoods, especially among families. Some of the city's best addresses can be found here: Birkhahnweg, Am Birkicht, Tangastraße, Möwestraße, around Graf-Spee-Platz, and In der Heuluss.
| To the center (Marienplatz) | To the central station | To the airport |
| --- | --- | --- |
| 10,4 km | 12,4 km | 38,9 km |
---
Rental offers in Munich-Waldtrudering
---
Offers for sale in Munich-Waldtrudering
In the south, there are woods and adjacent farmland. Those looking for recreation areas can find them in Truderinger Forst, Ostpark, and the adjacent public pool Michaelibad. The shopping ceneter Riem Arcaden in northern Waldtrudering, as well as PEP, the shopping mall in Perlach in the west, offer diverse shopping opportunities. The S-Bahn lines S4 and S6 at the stations Trudering and Gronsdorf provides an excellent connection to the city center and the outskirts. Furthermore, the U-Bahn line U2 at the station Trudering also connects Waldtrudering to public transport.
After the airport moved to the northeast, the quarter became one of the most quiet in Munich. The quarter predominantly consists of multi-story and detached houses with yards. For the most part, Waldtrudering has been able to preserve its rural character. Was there no suitable offer? Maybe you can find furnished accommodation in the neighboring districts Trudering, Riem and Berg am Laim.
Unfurnished rental apartments can be found on Immoscout24 (unfortunately only in German language). The Immoscout24 app, is also available in English.
---
Photo galleries
27
Waldtrudering
16
Messestadt Riem
12
Riemer See
Shopping
More than 100 shops around the Wasserburger Landstraße. 5km to the shopping malls "Riem Arcaden" and "PEP" in Neuperlach.
Gastronomy
Several restaurants, cafés, and beer gardens
Leisure
Cultural centers include: the parish "Christi Himmelfahrt" and the protestant "Friedenskirche", the new cultural center Trudering, and the family center Trudering, which includes a private music school and a preschool; TSV Waldtrudering provides a wide selection of sports programs and facilities; the woods at the southern border of the neighborhood are ideal for jogging and going for walks.