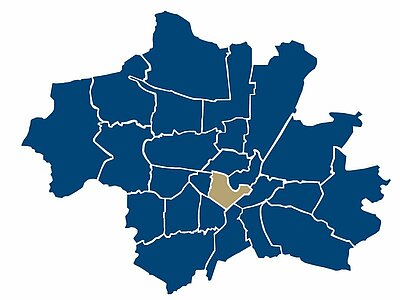 Living in the Schlachthofviertel
---
Apartments for rent and for sale
Between 1876 and 1878, the Munich Meat and Livestock butchery complex were built according to the plans of the city architect Arnold Zenetti.
| To the center (Marienplatz) | To the central station | To the airport |
| --- | --- | --- |
| 2,8 km | 2,1 km | 44,0 km |
---
Rental offers in Munich-Schlachthofviertel
---
Offers for sale in Munich-Schlachthofviertel
Today's Meatpacking-District "Schlachthof" is actually part of Isarvorstadt and lies north of the railroad line. Towards the Isar, this quarter merges into the neighboring Glockenbachviertel. Even today, the Schlachthof still characterizes the neighborhood. However, there is less and less on-site slaughtering, but rather wholesale trade in meat, poultry, fish and delicatessen. In recent years, a thriving restaurant, bar and cultural scene has developed in the surrounding streets, making the neighborhood increasingly popular. For example, the "Alte Utting" is a popular place to go and the new Volkstheater is also currently being built here.
Wasn't there something for you here? You will find similarly attractive apartments in unique surroundings in the Glockenbachviertel, Gärtnerplatzviertel and Sendling.
Unfurnished rental apartments can be found on Immoscout24 (unfortunately only in German language). The Immoscout24 app, is also available in English.
---
Photo galleries
14
Schlachthofviertel - Isarvorstadt
7
Glockenbachviertel - Isarvorstadt
8
Gärtnerplatzviertel - Isarvorstadt
Shopping
Many mainly smaller shops
Gastronomy
Many cafés, bars, and restaurants
Leisure
Theater, gym, Theresienwiese with various events (circus, fairs, etc.)