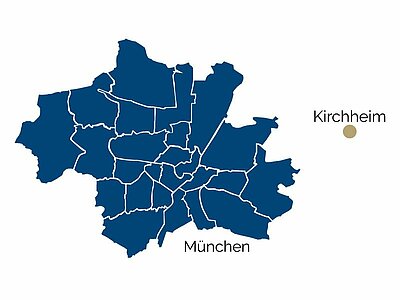 Temporary rentals in Kirchheim
---
Living in Kirchheim
Kirchheim is located about 17 km east of Munich (centre) and goes back to one of the oldest settlements in this area: its foundation is dated back to the 7th century.
| To the center (Marienplatz) | To the central station | To the airport |
| --- | --- | --- |
| 16,6 km | 18,5 km | 28,8 km |
---
Rental offers in Kirchheim
For a long time, the village bordered directly on the independent community of Heimstetten. The Heimstetten stop of the S-Bahn line S2 provides a perfect connection to the local public transport system: both Munich and the suburbs can be reached quickly. In addition, Kirchheim is located close to the motorway junction Ost, which also guarantees a quick and easy connection to the motorways A94 and A99. Although the two communities of Kirchheim and Heimstetten were finally merged in 1978, they developed independently of each other.
In the 70s Kirchheim experienced a big building boom, in the new single and multi-family houses which were built in this way, there are some nice furnished apartments. Numerous kindergartens and schools make Kirchheim an attractive residential area also for families. In addition, the community is located near the Poing wildlife park, one of the most popular recreational areas in the region. Attractive rental apartments are also available in the surrounding villages of Heimstetten, Vaterstetten and Feldkirchen.
Unfurnished apartments can be found on Immoscout24 (unfortunately only in German language). The Immoscout24 app, is also available in English.
---
Photo galleries
4
Kirchheim
2
Heimstetten
Shopping
Shops for convenience goods and several small stores
Gastronomy
Several bars and restaurants, and an ice cream parlor
Leisure
Sports grounds, library