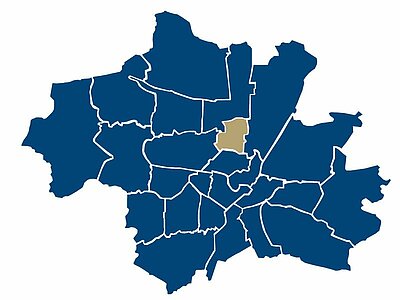 Schwabing
---
Living in Munich Schwabing
Due to its rich history, Schwabing is one of Munich's most famous areas. Even today, it still draws from the image as a Bohemian and artist's quarter, which it earned in the late 19th century. Back then, many artists and creatives settled down in Schwabing, amongst them such big names as Thomas Mann and Wassily Kandinsky. Over the course of several decades, they shaped the quarter into a retreat for nonconformists and creatives from all over the world.
While the quarter was decried as a center for the in-crowd during the postwar era, it is now mostly known as the nightlife area. The impressive Leopoldstraße divides the quarter into east and west and is still the city's most famous boulevard. The eastern part is directly bordered by the English Garden, while the western part of this idyllic district reaches all the way to Kurfürsten- and Hohenzollernplatz. Around the so called "Münchner Freiheit", which is not only the area's transportation hub but also the center of its nightlife, you can find numerous bars, movie theaters, and smaller theaters, some of them with long traditions. Schwabing is also home to many boutiques and shops perfect for a shopping spree.
| To the center (Marienplatz) | To the central station | To the airport |
| --- | --- | --- |
| 5,1 km | 4,3 km | 34,5 km |
---
Rental offers in Munich-Schwabing
---
Offers for sale in Munich-Schwabing
Its rich history and diverse leisure facilities still make Schwabing one of the most sought-after addresses for living in Munich. The apartments here benefit from excellent transport connections and a central location. Numerous parks also offer beautiful food recreation areas in the middle of the city. If you have not found a suitable offer in Schwabing, it is worth taking a look at other central districts such as Maxvorstadt, Ludwigsvorstadt, or Altstadt, the center of Munich.
Unfurnished rental apartments can be found on Immoscout24 (unfortunately only in German language). The Immoscout24 app, is also available in English.
---
Photo galleries
13
Luitpoldpark
14
Rund um den Bonnerplatz
9
Schwabing - Leopoldstrasse
Shopping
Leopoldstraße with its many small cafés and shops is the shopping (and flirting) lane for young people. Between Münchner Freiheit, Siegestor, and Hohenzollernplatz you will find a large number of every kind of store.
Gastronomy
Many welcoming and chic cafés, bars, and restaurants
Leisure
Theater, cinemas, gym, indoor pool, open air pool, recreational activities in the neighboring English Garden