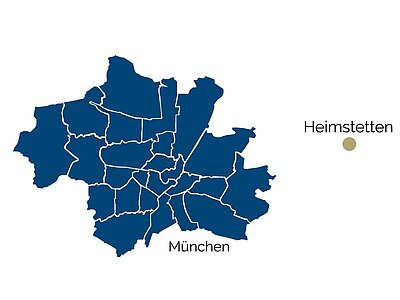 Apartments in Heimstetten
---
Living in Heimstetten
Heimstetten is located approx. 16km east of Munich (city center). Heimstetten is part of the municipality of Kirchheim, which has a population of 13.000.
| To the center (Marienplatz) | To the central station | To the airport |
| --- | --- | --- |
| 15,5 km | 17,5 km | 29,7 km |
---
Rental offers in Heimstetten
In scripture, the first mention of Heimstetten can be dated back to 1324, but it is believed that the settlement's origin dates back even farther. In 1978 the small village was incorporated into the municipality of Kirchheim. In 1972 Heimstetten opened its own S-Bahn station, making it part of Munich's public transport network. The population has grown steadily since then. With its S-bahn station "Heimstetten" (S2) it is well connected to Munich's city center and the metropolitan area. Additionally, the motorway junction München-Ost, where the A94 and A99 intersect, lies just outside of town and makes it easy to access long-distance traffic.
In general there is a very pleasant residential area, which is especially attractive for families due to its proximity to nature. There are also nice furnished apartments in the surrounding communities of Aschheim and Feldkirchen.
Unfurnished apartments can be found on Immoscout24 (unfortunately only in German language). The Immoscout24 app, is also available in English.
---
Photo galleries
8
Heimstetten
8
Aschheim
Shopping
A wide range of shopping facilities in the industrial areas
Gastronomy
Numerous restaurants, as well as a few cafés and bars
Leisure
Lake, skatepark, climbing, beach volleyball, miniature golf, sports fields, library, cultural events