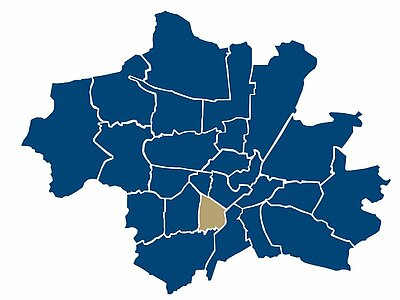 Living in Sendling
---
Apartments for rent and for sale
Sendling, with its wholesale market halls, is one of the city's traditional working class neighborhoods. With Theresienwiese in the North, Westpark in the West, and the "Flaucher" in the East, Sendling offers short distances to many attractive destinations in Munich.
| To the center (Marienplatz) | To the central station | To the airport |
| --- | --- | --- |
| 4,7 km | 3,8 km | 45,7 km |
---
Rental offers in Munich-Sendling
---
Offers for sale in Munich-Sendling
Eastern Sendling in particular forms a small recreation area: The so called "Flaucher", with its beer garden and many small islands on the river Isar, is the perfect place for sunbathing. The famous zoo Hellabrunn is not far away either. The U-Bahn lines U3 and U6 connect the quarter at three stations.
Except for a few larger houses from the Wilhelminian period, between Harras and the abattoir, the quarter clearly shows its origin. However, the rents in this district are still quite low by Munich standards. For this reason, and because of a constantly growing range of small, often alternative bars and cultural facilities, as well as its proximity to the city center, Sendling has become a popular residential area. Similar offers for apartments are also available in the districts of Thalkirchen, Obersendling and Westpark.
Unfurnished rental apartments can be found on Immoscout24 (unfortunately only in German language). The Immoscout24 app, is also available in English.
---
Photo galleries
23
Mitter- und Untersendling
11
Flaucher
11
Thalkirchen
Shopping
Many small shops
Gastronomy
Many restaurants, cafés, and beer gardens
Leisure
Open air pool (Südbad), banks of the river Isar with "Flaucher", sports grounds