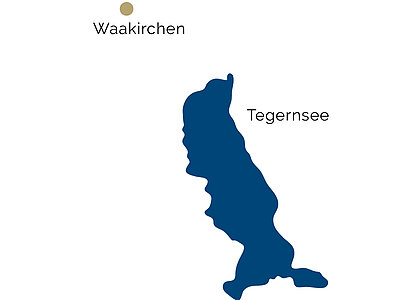 Apartments for rent in Waakirchen
---
Living in Waakirchen
Waakirchen is a village in the west of the district of Miesbach. It is located between Bad Tölz and the Tegernsee, on a lateral moraine of the former Isar and Tegernsee glaciers. The community is growing steadily and now has about 6000 inhabitants.
---
Rental offers in Waakirchen
Waakirchen can come up with a lot of Bavarian history, so hangs in the Holy Cross Church in Schaftlach the Schaftlacher cross, dated to the year 970 A.D. Also the Oberländerdenkmal, with a stately lion, at the junction with Tegernseerstraße commemorates the fallen of the Sendlinger Mordweihnacht in December 1705.
The municipality has two kindergartens and an elementary school, as well as a high school in the adjacent Reichsbeuern. No less than three landscape conservation areas border Waakirchen and invite you to extensive walks.
The Waakirchen train station is located in the district of Schaftlach, where regional trains in the direction of Munich and Tegernsee stop every hour. Drivers benefit from the good location on the federal highway 472, with connection to the A8.
In Waakirchen you live idyllic and quiet, at the same time you are quickly at the beautiful Tegernsee. Further interesting real estate offers for rent or purchase can be found in the communities of Gmund and Miesbach.
You can find unfurnished apartments on Immoscout24.
Shopping
Some small shops, supermarket
Gastronomy
Margarethenhof, several inns
Leisure
Golf hotel, cross country skiing, several clubs