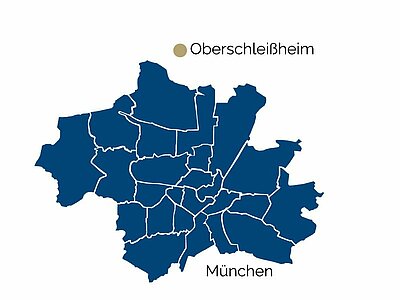 Long-term rentals in Oberschleißheim
---
Living in Oberschleißheim
Oberschleißheim is located approx. 16 km north of Munich (center). The municipality in the district of Munich has approx. 12,000 inhabitants and is one of the oldest settlements in the region. Schleißheim is already mentioned in documents in the 8th century.
| To the center (Marienplatz) | To the central station | To the airport |
| --- | --- | --- |
| 15,8 km | 16,0 km | 24,3 km |
---
Rental offers in Oberschleißheim
In the 17th century, the Wittelsbach family built the Old Oberschleissheim Castle as a hunting lodge, which was later extended to include the New Palace and Lustheim Castle. In the 19th century Oberschleißheim was connected to the newly emerging railway network and grew rapidly as a result. Even today Oberschließheim is still strongly influenced by the castles, which occupy a considerable part of its area.
Oberschleißheim profits from both a quit location as well as a good traffic connection: The S-Bahn station Oberschleißheim provides quick and easy access to Munich and the surrounding area via train line S1. Furthermore, the regional train to Landshut stops in Oberschleißheim once a day. Long-distance transport can be comfortably reached via the access roads to the motorways A9, A92, and A99.
Oberschleißheim is a quite quiet residential area, with many picturesque objects for temporary rental. The residential area is also very suitable for families: in Oberschleißheim there are several schools and the surrounding area offers many opportunities for excursions into nature. With the Regattaparksee and the Mallertshofer See, two large local recreation areas are in the immediate vicinity. In addition, the nature reserve "Mallertshofer Holz mit Heiden" is directly adjacent in the north. Similarly beautiful furnished apartments in green surroundings can also be found in Unterschleißheim and Garching.
Unfurnished apartments can be found on Immoscout24 (unfortunately only in German language). The Immoscout24 app, is also available in English.
---
Photo galleries
3
Ruderregatta in Oberschleißheim
4
Schloss Schleißheim
1
Flugwerft Schleißheim
Shopping
Stores for your day-to-day needs, smaller shops and service providers
Gastronomy
Several restaurants, a few cafés and bars
Leisure
Schleißheim Palace, airfield museum, indoor pool, olympic regatta course, tennis, library, cultural events