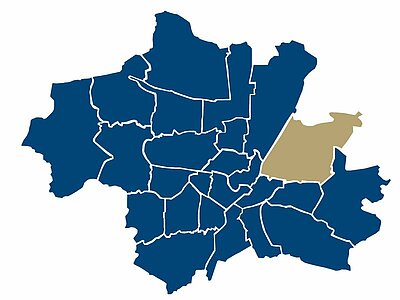 Furnished Apartments in Munich-Parkstadt Bogenhausen
---
Living in Parkstadt Bogenhausen
Parkstadt Bogenhausen is located on the northern edge of the city quarter Bogenhausen. The quarter is home to a large residential complex from the 1950s, consisting of 5 high-rise buildings, a row of multi-story apartment buildings. The buildings are all surrounded by extensive, park-like green areas, offering ample space for families with children. The neighboring Steinhausen is now mainly an industrial area. In addition to the green residential areas, you can also find a very nice recreation area with extensive walking- and jogging trails near by: Denninger Anger. The Rosenkavalierplatz and Arabellapark, with many shopping facilities, restaurants, and medical practices, can also be reached on foot in a matter of minutes. The U-Bahn stations "Richard-Strauß-Straße" and "Böhmerwaldplatz" (U4) are located in the immediate vicinity, connecting Parkstadt Bogenhausen to Munich's public transport network and allowing for quick and easy access to the city center.
Thanks to careful planning, Parkstadt Bogenhausen is very well protected from traffic noise and generally offers a very good and quiet residential area. You will also find further suitable housing offers in the districts Arabellapark, Bogenhausen, Berg am Laim.
| To the center (Marienplatz) | To the central station | To the airport |
| --- | --- | --- |
| 4,4 km | 5,9 km | 34,2 km |
---
Apartment Offers in Munich-Parkstadt Bogenhausen
Die Bauten sind alle von großzügigen, parkähnlich bepflanzten Grünflächen umgeben und bieten somit auch viel Platz für Familien mit Kindern. Zusätzlich zu der grünen Wohnlage findet man auch ein schönes Naherholungsgebiet mit ausgedehnten Spazier- und Laufstrecken in der Nähe: den Denninger Anger. Ebenfalls in einigen Minuten zu Fuß zu erreichen ist der Rosenkavalierplatz und der Arabellapark, dort konzentrieren sich viele Einkaufsmöglichkeiten, Restaurants und Arztpraxen. In unmittelbarer Nähe liegen die U-Bahnstationen der U4, Richard-Strauß-Straße und Böhmerwaldplatz, welche die Parkstadt Bogenhausen perfekt ans Münchner Nahverkehrsnetz anschließen und einen schnellen und unkomplizierten Zugang zur Innenstadt ermöglichen.
Durch eine sorgfältige Planung ist die Parkstadt Bogenhausen sehr gut vor Verkehrslärm geschützt und bietet im Allgemeinen eine sehr gute und ruhige Wohnlage. Weitere passende Wohnungsangebote finden Sie auch in den Stadtteilen Arabellapark, Bogenhausen, Berg am Laim.
---
Photo galleries
12
Arabellapark
18
Altbogenhausen
7
Parkstadt Bogenhausen
Gastronomy
Practically nonexistent
Leisure
Extensive park areas