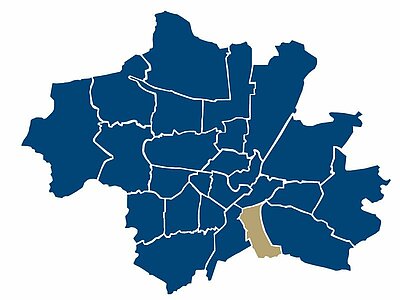 Living in Obergiesing
---
Apartments for rent and for sale
Obergiesing forms the largest portion of the historic district of Giesing; it stretches from Ostfriedhof and the Holy Cross Church in the north all the way to Fasangarten in the south. It is home to a variety of residential buildings: from cooperative housing and small housing estates to detached houses.
| To the center (Marienplatz) | To the central station | To the airport |
| --- | --- | --- |
| 5,0 km | 5,8 km | 42,2 km |
---
Rental offers in Munich-Obergiesing
---
Offers for sale in Munich-Obergiesing
"Weißenseepark" offers a small recreation area in the center of the quarter. At the northern end of Obergiesing, you can find "Grünwalder Stadion", where, since the 2017/18 season, TSV 1860 München plays its matches and many other sporting events are held. Nockherberg in northwestern Obergiesing is mostly known for the beautiful "Kronepark" and the annual "Starkbierfest" (strong beer festival), which attracts visitors from Munich and beyond. There are ample opportunities to connect to public transport, such as the three U-Bahn stations Silberhornstraße, Untersbergstraße, and Giesing (all U2), as well as the S-Bahn station Fasangarten (S3) in the south. Thus, the quarter is perfectly connected to the city center and the outskirts. The motorway A995, which leads to Tegernseer Landstraße in Giesing, ensures easy access to long-distance transport.
Obergiesing's location is close to the city center, yet rents are often lower than in comparable Munich districts. Here you will find a very diverse range of housing developments: from cooperative apartments, multi-story housing and small housing estates to single-family houses. In recent years, the whole of Giesing has become much more attractive due to the renovation and privatisation of the apartments. Beautiful apartments can also be found in Giesing, Untergiesing and Fasangarten.
Unfurnished rental apartments can be found on Immoscout24 (unfortunately only in German language). The Immoscout24 app, is also available in English.
---
Photo galleries
22
Obergiesing
20
Giesing
11
Untergiesing
Shopping
Many shops, especially along the Tegernseer Landstraße
Gastronomy
Several restaurants, cafés, and bars
Leisure
Indoor swimming pool, sports grounds, amusement park