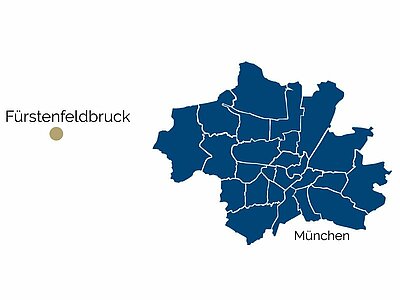 Temporary rentals in Fürstenfeldbruck
---
Living in Fürstenfeldbruck
Fürstenfeldbruck is located approx. 31 km west of Munich (city center) and has approx. 37,000 residents. The town on the river Amper gets its name from a combination of the words "Fürstenfeld", which refers to the former property of the House of Wittelsbach, and "Bruck", which is a reference to its location near the bridge over the Amper.
| To the center (Marienplatz) | To the central station | To the airport |
| --- | --- | --- |
| 31,0 km | 29,0 km | 56,0 km |
---
Rental offers in Fürstenfeldbruck
The town is known to have already been settled in the Middle Ages, when it was located on the important salt road. Fürstenfeld Abbey is one of the most popular attractions and impresses with individual buildings of various historic architecture styles as well as the grand abbey church of the Assumption of the Virgin Mary. The town's economy is still dominated by the armed forces, who, thanks to the airfield, are the town's largest employer. The district hospital Fürstenfeldbruck and Coca Cola are also significant employers in the region. Despite the relative distance to Munich, the connections are very good: The S-Bahn lines S4 and S20 run every 20 minutes and connect Fürstenfeldbruck to Munich's city center, which can be reached easily and quickly. The Allgäu Railway also stops in Fürstenfeldbruck, providing access to many destinations in the wider region.
Today Fürstenfeldbruck is a major district town, which offers beautiful properties with furnished apartments and houses. The location is quiet and yet with a good traffic connection. If you can't find the right offer here, then it's also worth taking a look at the neighbouring municipality Puchheim.
Unfurnished apartments can be found on Immoscout24 (unfortunately only in German language). The Immoscout24 app, is also available in English.
---
Photo galleries
3
Fürstenfeldbruck
1
Puchheim
2
Olching
Shopping
Several industrial areas with car dealerships, large specialty stores, and a variety of chain stores and retail shops for your daily needs.
Gastronomy
Various restaurants with traditional Bavarian or international cuisine, as well as a few cafés and bars
Leisure
Museum, events, markets and festivals, cultural center, bike- and hiking trails, public pool, swimming lake, beach volleyball, sports grounds, fitness trail, adventure trail