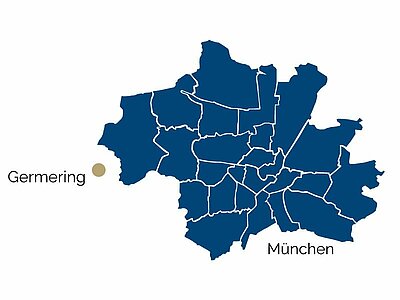 Furnished temporary rentals in Germering
---
Living in Germering
About 21 km west of Munich ( center), in the district of Fürstenfeldbruck, lies the city of Germering, which now has about 40,000 inhabitants. In the north Germering borders on agriculturally used fields on the community of Puchheim, in the south and east on the Kreuzlinger Forest with its extensive forest area, and in the west on the district of Starnberg.
| To the center (Marienplatz) | To the central station | To the airport |
| --- | --- | --- |
| 20,0 km | 15,3 km | 46,5 km |
---
Rental offers in Germering
---
Offers for sale in Germering
The city's cultural offerings are mainly focused on the Stadthalle, which combines many different facilities under its roof. Also the 'Cordobar', where one or the other well-known band has already started and which still supports many young talents, is one of the city's popular cultural events. The town is very well connected to the Munich Metropolitan Region: the city center of Munich can be reached easily and conveniently by taking the S-Bahn (suburban train) stop Germering (S8). In addition, the A99 motorway, with its ring road linking the A8 and A9, offers fast access to the long-distance network.
The city also offers an ideal environment for families with children. Germering has several elementary and secondary schools, as well as a grammar school. In general, living space in Germering is therefore very sought-after, because overall you will find a very quiet residential area here, with plenty of access to nature, which is very suitable for temporary living. Especially the Germeringer See, and the picturesque, wooded Parsberg, invite you to relax. Similarly beautiful furnished apartments can be found in Freiham, Puchheim and Gilching.
Unfurnished apartments can be found on Immoscout24 (unfortunately only in German language). The Immoscout24 app, is also available in English.
---
Photo galleries
5
Germering
4
Freiham
Shopping
Numerous supermarkets and retail stores, as well as large specialty stores
Gastronomy
Lots of restaurants, cafés, and other gastronomic businesses
Leisure
Indoor pool, outdoor pool, movie theater, lake, ice skating, beach volleyball, golf, cultural events, local museum, theater