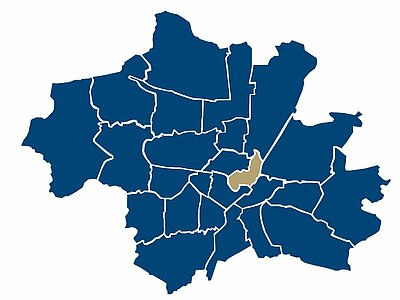 Rental apartments in Munich-Lehel
---
Living in Lehel
This district in the heart of Munich is considered one of the best neighborhoods of Munich, even in comparison with the other central districts.
| To the center (Marienplatz) | To the central station | To the airport |
| --- | --- | --- |
| 1,5 km | 3,0 km | 36,6 km |
---
Rental offers in Munich-Lehel
---
Offers for sale in Munich-Lehel
From the city center, you can follow Munich's famous shopping street, Maximilianstraße, where one exclusive boutique follows the next. To the East you enter the quarter Lehel, which got its name from an old term for riverside woodlands. The quarter has retained some of that idyllic charme to this day, and in the area around the underground station Lehel, you almost forget that you are in the heart of Germany's third largest city .
On the more lively Prinzregentenstraße, Munich's "Museum Mile", you can find the Bavarian National Museum, the Schackgalerie, the Bavarian State Archaeological Collection, and the Haus der Kunst all in close proximity to each other. Aside from this, the area is characterized mainly by office buildings as well as many exclusive rental and owner occupied apartments in renovated in period buildings with Art Nouveau architecture. The fact that Lehel directly borders the English Garden on one side and the city center on the other: this unique combination makes Lehel arguably the most sought-after and most exclusive residential area in the city. There are similarly beautiful offers in Maxvorstadt and the old town center, Altstadt.
Unfurnished rental apartments can be found on Immoscout24 (unfortunately only in German language). The Immoscout24 app, is also available in English.
---
Photo galleries
16
Lehel
9
Residenz und Maximilliansstraße
9
Am Hofgarten
Shopping
A large choice of international, partly very exclusive, shops and boutiques
Gastronomy
A lot of stylish cafés, bars, and restaurants
Leisure
Many museums, theaters, cinemas, and libraries, as well as recreational activities in the neighboring English Garden