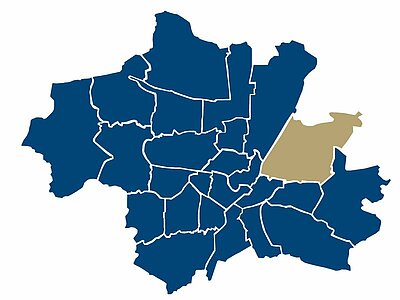 Living in Munich-Daglfing
---
Apartments for rent and for sale
The quarter has largely preserved its rural character. The old town center is marked by the church of St. Phillip and Jakob, around which the historic center is arranged.
| To the center (Marienplatz) | To the central station | To the airport |
| --- | --- | --- |
| 6,9 km | 8,4 km | 40,0 km |
---
Rental offers in Munich-Daglfing
---
Offers for sale in Munich-Daglfing
The local harness racing track attracts visitors from the surrounding area and beyond. When there is no race, the track serves as a venue for flea markets. The S-Bahn S8 at the station Munich-Daglfing provides an excellent connection to public transport. Munich Airport can also be reached easily via the S8, which usually runs every 20 minutes.
Daglfing's image is dominated by detached and terraced houses with large gardens and a few old farmsteads. In Daglfing you will find apartments and houses in a quiet residential area with good city center connections. Similar offers can also be found in the districts of Denning and Englschalking.
Unfurnished rental apartments can be found on Immoscout24 (unfortunately only in German language). The Immoscout24 app, is also available in English.
---
Photo galleries
4
Daglfing
3
Englschalking
9
Denning
Gastronomy
Only few cafés and restaurants
Leisure
Parks and race tracks