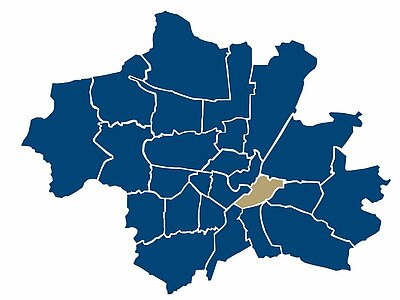 Apartments in Munich-Au-Haidhausen
---
Living in Au-Haidhausen
The district combines the two historic districts of Au and Haidhausen and is located on the eastern bank of the Isar. Most of the Au is located on the banks of the Isar itself, and to a lesser extent on the Isarhochufer, while Haidhausen is entirely located on the Isarhochterasse.
| To the center (Marienplatz) | To the central station | To the airport |
| --- | --- | --- |
| 1,6 km | 3,6 km | 38,4 km |
---
Rental offers in Munich-Au-Haidhausen
---
Offers for sale in Munich-Au-Haidhausen
From a constructional point of view, the most interesting part of Au-Haidhausen is the French Quarter, which has only quiet traffic and in which numerous corner shops have been preserved. Not far from here, Wiener Platz with its weekly market offers another idyllic haven of peace and quiet and in winter even a picturesque Christmas market.
The central sights of the quarter are the Maximilianeum, which makes a great impression from the other side of the Isar river with its elaborate scenic architecture, and the cultural area around the two large event centres Gasteig and Muffatwerk. A wide range of events take place there, from concerts, events, cinema evenings, to parties, all year round.
This former workers' quarter Au-Haidhausen gains its charm from the many nested old buildings and is especially popular with young people and offers many beautiful objects for long term rental. While it was initially characterised by simple buildings from the post-war years, it became a central redevelopment area of the city from the 1970s onwards, transforming it from a suburb into a suburban district. Beautifully furnished apartments are available here and in the equally central neighboring districts of Altstadt, Bogenhausen and Lehel.
---
Photo galleries
17
Au
9
Isarauen
11
Haidhausen
Shopping
Many small shops
Gastronomy
Many small and cozy cafés, bars, and restaurants
Leisure
The "Deutsches Museum", theater, movie theaters, open air pool - special attractions include the triannual "Auer Dult", a fair in the church yard of the Mariahilfkirche, and the double beer tapping on the Nockherberg