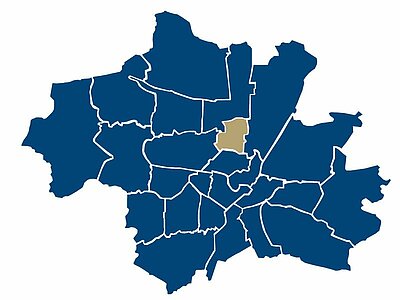 Furnished Apartments in Munich-Schwabing-Nord
---
(zw. Leopoldstraße & Englischen Garten)
This quarter, with its beautiful turn-of-the-century buildings and less attractive post-war buildings in between, used to be the bohemian side of town. Since the university is located here, this neighborhood is very popular among students. It is also a very prestigious address for lawyers, insurance companies, and physicians.
| To the center (Marienplatz) | To the central station | To the airport |
| --- | --- | --- |
| 5,0 km | 5,0 km | 33,0 km |
---
Rental offers in Munich-Schwabing-Nord (zw. Leopoldstraße & Englischen Garten)
---
Offers for sale in Munich-Schwabing-Nord (zw. Leopoldstraße & Englischen Garten)
This part of the historic district of Schwabing stretches from the central Leopoldstraße all the way to Ungererstraße and the western border of the English Garden. This is also where the Parkstadt Schwabing is located, a mostly independent housing estate that provides office space as well as rental properties. The proximity to Münchner Freiheit allows you to reach one of the social hubs on foot in just a few minutes. Near Leopoldstraße, the city's central boulevard you can find numerous shops and boutiques, bars and restaurants, as well as a small park. Away from Leopoldstraße, the area is very serene, despite its location in the heart of Munich. The English Garden is located within walking distance and offers expansive green spaces with many walking trails and room for sports and relaxation. The underground lines U3 and U6 at the stations Münchner Freiheit, Dietlindenstraße, and Nordfriedhof provide an excellent connection to public transport.
---
Photo galleries
10
Schwabing - Nord
11
Schwabing - Nordost
15
Englischer Garten - Nordteil
Shopping
Leopoldstraße, with its many small cafés and shops, is the shopping (and flirting) lane for young people. Between Münchner Freiheit, Siegestor, and Hohenzollernplatz, you will find a large number of every kind of store.
Gastronomy
Many welcoming and chic cafés, bars, and restaurants
Leisure
Theater, cinemas, fitness centers, indoor pool, open air pool, recreational activities in the neighboring English Garden