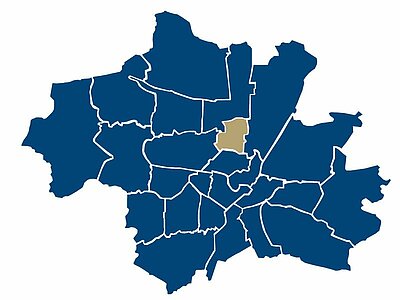 Furnished Apartments in Munich-Schwabing-West (rund um den Hohenzollernplatz)
---
Living in Schwabing-West (rund um den Hohenzollernplatz)
Schwabing the former bohemian quarter, with its beautiful turn-of-the-century buildings and less attractive post-war buildings in between, is now very popular with students because of its proximity to the University. It is also a very prestigious address for lawyers, insurance companies, and physicians, and a sought-after location for apartment rental in Munich.
| To the center (Marienplatz) | To the central station | To the airport |
| --- | --- | --- |
| 4,3 km | 3,7 km | 35,6 km |
---
Offers for sale in Munich-Schwabing-West (rund um den Hohenzollernplatz)
The central Hohenzollernplatz is where street festivals and christmas markets take place. Not far away is the small but very popular Nordbad. The Luitpoldpark further north with the neo-baroque Bamberger Haus is also an extensive local recreation area in the heart of the city.The U-Bahn line U2 at the Hohenzollernplatz, as well as tram and bus lines provide a connection to local public transport. This makes it easy and comfortable to reach the other parts of the city and the city center of Munich.
---
Photo galleries
19
Rund um den Hohenzollernplatz
13
Luitpoldpark
10
Schwabing - West
Shopping
Between Münchner Freiheit, Siegestor, and Hohenzollernplatz, you will find a large number of every kind of store.
Gastronomy
Many welcoming and chic cafés, bars, and restaurants
Leisure
Theater, cinema, fitness centers, indoor pool, open air pool, recreational activities in the neighboring English Garden