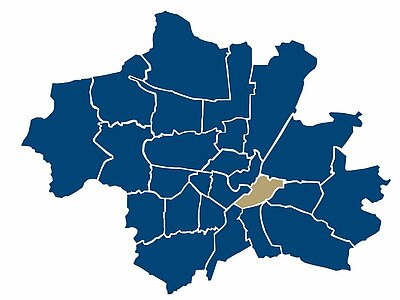 Living in Haidhausen
---
Apartments for sale
The district of Haidhausen most clearly combines the conflicting facets of Munich: cozy and relaxed on the one hand, modern and lively on the other.
| To the center (Marienplatz) | To the central station | To the airport |
| --- | --- | --- |
| 1,6 km | 3,6 km | 38,4 km |
---
Rental offers in Munich-Haidhausen
---
Offers for sale in Munich-Haidhausen
The quarter's village roots are still visible, in the Kriechbaumhof on Preysingstraße you can still find the old church that marked the center of the village. From there, small and winding alleys with the romantic charm of earlier days lead to Wiener Platz, which already marks a stark contrast with its popular beer gardens. Further south, at the Rosenheimer Platz, Haidhausen becomes even more lively with connection to the main suburban train route, where stores and boutiques of all kinds can be found. Continuing on towards the Isar, you reach Gasteig, Munich's largest cultural center, which combines a library, adult education center, cinema, and the philharmonic hall. A few meters further and you will find yourself on the idyllic banks of the river Isar and at the old Müller'sche Volksbad, Munich's most beautiful indoor pool and a highlight of Haidhausen, thanks to its impressive Art Nouveau architecture.
Are you still looking for an apartment? Other apartments in central locations are also available in the districts of Giesing, Au and Bogenhausen.
Unfurnished rental apartments can be found on Immoscout24 (unfortunately only in German language). The Immoscout24 app, is also available in English.
---
Photo galleries
11
Haidhausen
17
Au
15
Steinhausen
Shopping
Many (often small) shops
Gastronomy
Many nice cafés, bars, beer gardens, and restaurants
Leisure
Cinemas, the beautiful "Müllersche Volksbad", the cultural center "Gasteig" contains the philharmonics, as well as a theater, cinema, and various other locations for cultural events.