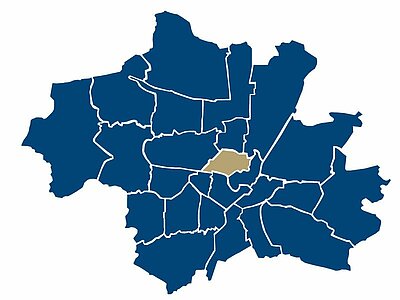 Apartments in Munich-Maxvorstadt - Westen
---
Living in Maxvorstadt - Westen
The western part of Maxvorstadt stretches from the majestic neo-classical buildings on Königsplatz, which house the Glyptothek and the State Collections of Antiquities, all the way to Maillingerstraße.
| To the center (Marienplatz) | To the central station | To the airport |
| --- | --- | --- |
| 1,5 km | 1,5 km | 39,0 km |
---
Rental offers in Munich-Maxvorstadt - Westen
---
Offers for sale in Munich-Maxvorstadt - Westen
Maxvorstadt, one of the most popular and also most expensive quarters in Munich, also has a lot to offer in its western part: Augustiner Keller with one of Munich's largest beer gardens can be found here, enticing you to stay and unwind in the summer, as well as the equally well-known Löwenbräukeller further to the north. Not far from there lies the Maßmannpark, one of the few larger green spaces in this part of the city. Further to the west, the historical setting changes to a more modern style with large office and residential buildings. The number of shops and cafés also decreases, and with it the unique atmosphere of the quarter. Considering the central location, the quarter is still relatively quiet. The U-Bahn station Maillingerstraße connects to the U-Bahn line U1 and the public transport network.
The mixture of noble and student flair gives Maxvorstadt its special, lively touch and makes it a popular address for temporary living. The central location near the universities LMU and TU is perfect for those looking for a furnished apartment.
---
Photo galleries
8
Maxvorstadt - West
15
Museumsviertel - Maxvorstadt
9
Universitätsviertel - Maxvorstadt
Shopping
A wide choice of, partly exclusive, shops and boutiques
Gastronomy
A large variety of cafés, bars, and restaurants
Leisure
Many museums, some cinemas and libraries, recreational activities in the neighboring English Garden