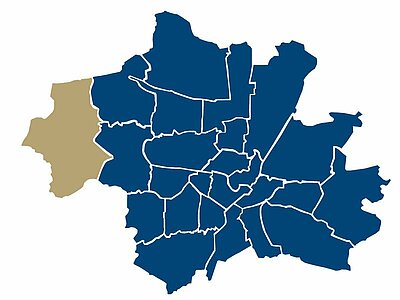 Living in Freiham
---
Apartments for rent and for sale
Freiham is located approx. 15 km west of Munich (city center) and borders on Germering in the west and Pasing in the east. The town is currently being expanded and will encompass up to 190 hectares.
| To the center (Marienplatz) | To the central station | To the airport |
| --- | --- | --- |
| 16,2 km | 13,8 km | 45,4 km |
---
Rental offers in Munich-Freiham
---
Offers for sale in Munich-Freiham
Freiham is intended to combine residential and commercial areas, and 9,000 to 10,000 apartments are in planning. There will be a mix of various residential properties covering a wide spectrum from multi-story apartment buildings to detached houses. Furthermore, an entrance to the quarter will be created near the new S-Bahn station: a central square that will lead to a pedestrian zone in the north.
The district will also be attractive for families, with a new education campus in Freiham that will house various school types as well as central sports grounds. The future district will offer independent urban structures, making it a particularly attractive living location. The offerings are rounded off by numerous green spaces for recreation within easy reach of Freiham. Since 2013, Freiham has a connection to the S-Bahn network again: The station of the line S8 provides easy access to Munich's city center, the more distant outskirts, as well as to the airport. Freiham also has access to the motorway A99, connecting it to national and international long-distance transport.
Further offers for accommodation with similarly good transport connections can also be found in Germering, Neuaubing and Aubing.
Unfurnished apartments for rent can be found on Immoscout24 (unfortunately only in German language). The Immoscout24 app, is also available in English.
---
Photo galleries
4
Freiham
5
Germering
19
Aubing
Shopping
Shopping in the industrial park
Gastronomy
On-site restaurant