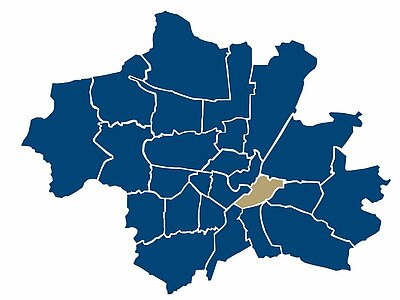 Living in Munich-Au
---
Apartments for rent and for sale
The former working-class neighborhood Au alongside the river Isar gets its charm from the many offset turn-of-the-century buildings. It is especially popular with young people. Here you can find some of the most picturesque settings and most beautiful properties for apartment rental.
| To the center (Marienplatz) | To the central station | To the airport |
| --- | --- | --- |
| 1,8 km | 3,8 km | 38,6 km |
---
Offers for sale in Munich-Au
The center of the quarter is located at Mariahilfplatz where you can also find the eponymous church, a very nice neo-gothic building from the 19th century. Here, the annual "Auer Dult", one of Munich's largest fairs, takes place. Nockherberg near Mariahilfplatz is the venue of the annual strong beer festival, which attracts many visitors from the Munich region and also marks an important political spectacle. Aside from this, however, post-war architecture dominates the area, since a lot of the original buildings were destroyed in World War II. Au is shaped by the river Isar more than any other district. It stretches from Ludwigsbrücke in the south to Wittelsbacherbrücke in the north. The proximity to the river also means that the nearest outskirts or recreation area is never far away. Despite the very central location, Au is a very green quarter with easy access to nature. The U-Bahn stations Kolumbusplatz (U1 and U2) in the south of Au and the S-Bahn station Rosenheimer Platz (S8) provide a good connection to public transport and the city's outskirts.
Have you not found a suitable offer here? More apartments in proxmity to the Isar are located in the districts Lehel, Glockenbachviertel and Giesing.
Unfurnished rental apartments can be found on Immoscout24 (unfortunately only in German language). The Immoscout24 app, is also available in English.
---
Photo galleries
17
Au
11
Haidhausen
9
Isarauen
Shopping
Many small shops
Gastronomy
Many small and cozy cafés, bars, and restaurants
Leisure
The "Deutsches Museum", theater, movie theaters, open air pool - special attractions include the triannual "Auer Dult", a fair in the church yard of the Mariahilfkirche, and the double beer tapping on the Nockherberg